What is purplecow.org?
The story
Originally, purplecow.org was just a quirky sounding domain name which was actually free around the time domain registrations became less expensive.
Over time, the name became a convenient banner for hosting content, providing online services, filling space on cards and offering an online identity where required.
The services
These days, purplecow.org provides email/calendar hosting, DNS, web space, small general network services, shell accounts and a few other things for a loosely connected bunch of people. This is a non-commercial service.
Acknowledgements
David Macara, for the logo.
Dennis Clarke, for some hosted zones.
---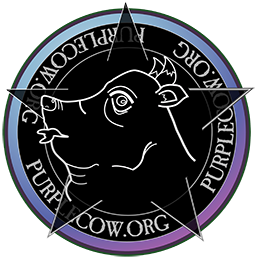 ---
All content copyright Andre van Eyssen, 2013. All Rights Reserved.
Site designed with the use of Bootstrap and text is set in Linux Libertine and headings in Biolinum. Usable open source typography should be applauded.
Built with vim.
---